The GreenHouse Fitout
WHY THIS SPACE?
The GBCA office space was chosen for the quality of the floor plate - providing maximum access to daylight and views. We are also located right in the heart on the CBD - close to public transport.
MEMBER ORGANISATION SUPPORT
The GreenHouse would like to thank the generosity of all of our member organisations who supported the project
DESIGN CONCEPTS
The 800m2 space has been developed as a sustainability showcase and to support GBCA's rapidly expanding team and dynamic culture. Bligh Voller Neild (BVN) designed the fitout, Lincolne Scott provided engineering services and Schiavello delivered building works. The GreenHouse has been short-listed for a National Interior Design Award.
Following are some general design concepts:
REDUCE (dematerialisation) - exposed ceilings where possible to reduce use of plasterboard / ceiling tiles.
REUSE - items have been reused from the previous GBCA tenancy.
RECYCLE - some furniture has been reupholstered (such as café chairs).
OPEN PLAN - office space allows for interaction between all staff, and demonstrates workplace equality. It also maximises the natural light and views to all staff.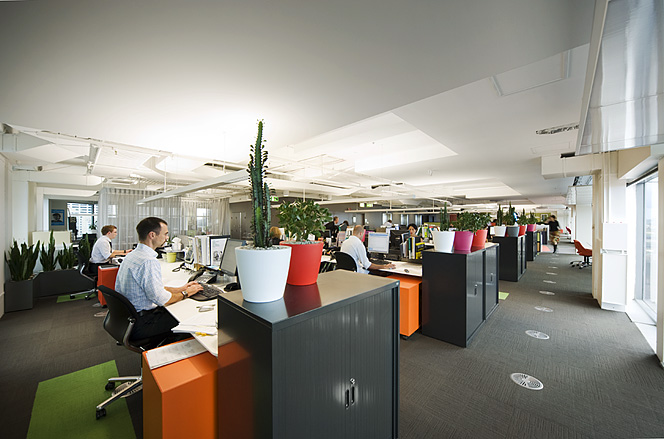 MEETING SPACES - both small and large meeting spaces for formal meetings, as well as informal meetings spaces.
CAFÉ / LOUNGE - for staff and GBCA members to share food and green ideas.
BATHROOMS - dual flush (water efficient) cisterns have been installed. Urinals are 6 Star water efficient (0.8Litres /flush), and are controlled by motion detectors. Bathroom taps are water saving spring loaded taps. All taps and toilets (including kitchen sink and dishwaters) are connected to the grey water system, and were supplied by Caroma.
BLINDS - Verosol blinds are installed on every perimeter window to control light penetration, glare and heat. All window blinds are fully automated and controlled by the touch screen panel by the lifts. Eventually, these blinds will be set on a timer, with manual override.
BOARDROOM CHAIRS - Herman Miller 'Mirra' chairs were leased to the GBCA, which means that they can be returned and reused by others in the future
BOARDROOM TABLES - provided by Schiavello, these have lockable castors, and can be reconfigured according to meeting needs. Privacy film to board and meeting room glazing will be applied shortly.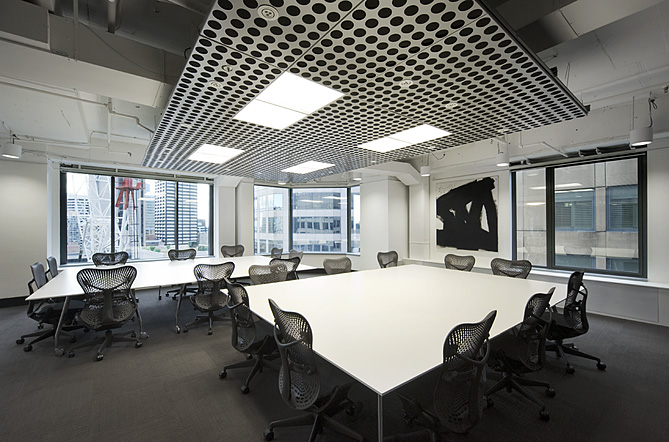 CABLING - is either under floor, or runs in cables trays on the ceiling.
CEILINGS - where possible, we have chosen to limit installation of ceilings throughout all the tenancy to avoid unnecessary use of materials. Building services and cables are exposed. An articulated plasterboard ceiling has been installed above workstations on the east façade to conceal insulation above and to optimise acoustics.
CO2 MONITORS - are located in meeting rooms and general office areas. These devices monitor the amount of CO2, while sensors deliver higher levels of fresh air for occupant comfort.
DESK CHAIRS - are from Wilkhahn. 40% are reused from the old GBCA office, the remainder are new (certified by GECA) to match.
DISPLACEMENT VENTILATION - a highly energy efficient mechanical air conditioning system has been installed, delivering air through vents at floor level in workstation areas, and window bays and through plenum wall boxes along the perimeter of the west and south areas of the office. This air is then vented out through return air ducts above the light shelves. Floor vents can be rotated to direct the flow of air to maximize worker comfort.
FABRIC - all upholstery and curtain fabric is natural and low toxic, where possible.
FLOORING - carpet is from InterfaceFLOR, has low VOC content and can be recycled. Carpet tiles are held in place with adhesive stickers (on the corners of each tile). No carpet glue is used. The concrete floor has been polished and sealed with water-based sealant.
FURNITURE - in the café/lounge area furniture includes a classic pre-loved '50s designer lounge (Hans Wegner) with matching pre-loved '50s teak coffee table. Café chairs have been reused, with some being reupholstered to match the vibrant colour scheme of the office. Zaishu plywood stools are made of FSC certified plywood, are Australian designed and made, and can be 'flat packed' for easy transportation. The dining table was reused from the GBCA's old office.
GREEN WALL - a living plant wall is featured behind the reception area. It is both functional and decorative. As the plants grow they also provide visual privacy.
GREY WATER - all water and other material (such as soap, food scraps) that goes down the sink, or into the dishwasher, is pumped along a grey waste pipe and into a grey water collection tank. The tank is located in a cupboard beside the meeting room's food preparation area. All solid material is filtered out, and then the water is used for flushing the toilets and urinals. The grey water is only released into the system when the tank level is high enough. At other times regular tap water is used.
INDOOR PLANTS - are supplied and maintained by Rentokil. These act as biofilters to convert CO2 into oxygen It also brings the outside environment inside the office.
JOINERY - all joinery in the office is made from low formaldehyde (E0) board.
LIGHTING - all lighting is by Zumtobel. Workstation lighting provides both task and ambient lighting in one system. Meeting room and boardroom lighting runs on a sensor system. We are awaiting replacement of LED lights in the boardroom and then the touch panel can be fine-tuned. Eventually, all lights in the tenancy will be linked to the Dali automated system, providing maximum user and energy efficiency.
LIGHT SHELVES - are located along the east façade in window bays. The translucent materials are multi purpose, projecting diffused natural daylight into the space and reducing radiant heat.
OUTDOOR PLANTER BOXES - contain hardy, climate tolerant plants. The large grey planter boxes along the length of the balcony contain Lemon Ironbark and Golden Guinea vine. The planter boxes on either end of the balcony contain culinary herbs - thyme, oregano and rosemary.
UTILITIES ROOM - all printers and photocopiers and computer racks are contained here. All pollutants are contained, and can be properly ventilated.
WASTE BINS - have been provided for recycled paper and card, recycled plastic, and appropriate food scraps for the worm farm. Small bins are in kitchen areas and large paper and plastic, glass, steel and aluminum recycling bins are in the utilities room.
WORKSTATIONS - and meeting tables are from Schiavello and are made from low formaldehyde board (E0 Board). Workstation pin boards are made from recycled PET bottles. Workstation storage units are all GECA certified.
WORM FARM - we have two and both are fed by food scraps generated by the GBCA staff.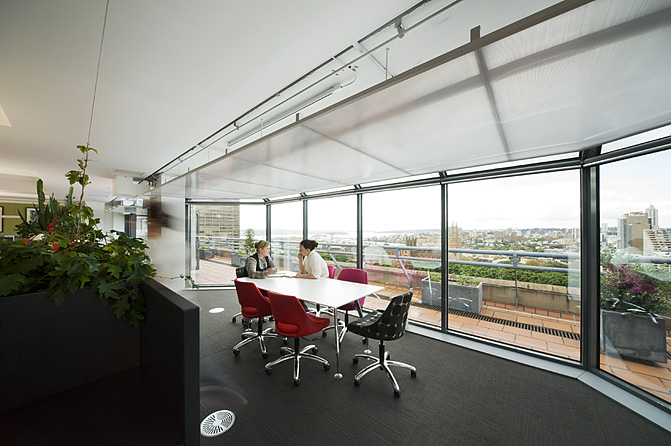 WANT A TOUR?
Member organisations, overseas delegations, universities and schools are all regular visitors to the GreenHouse to see first hand the ways in which they too can design, construct and work in sustainable spaces.
If you'd like to take a tour, contact:
GBCA Marketing
612 8239 6200
marketing@gbca.org.au
Photos taken by Emma Cross Gollings Photography